- MILAN -
Velasca Tower
For 50 years a symbol
of the milanese skyline

The spirit of a city is made up of symbols and elements that thanks to their uniqueness are able to make the cities come to life, accompanying them through history.
Velasca Tower is more than a historical skyscraper, unique in the urban planning world for its architecture and design. For more than 50 years it has been a symbol of the Milan skyline and of contemporary architecture: with its 27 floors rising to a height of 106 meters and its characteristic "mushroom" shape, it is one of the most important post-war architectural works, an icon that stands out in the silhouette of the city combining tradition and innovation, past and present.
A symbol that has defined Milan's history. And that will also define its future.

History
Torre Velasca, 106 meters tall with a distinctive "mushroom" shape, is one of the most important post-war architectural works and one of the best known in Milan.
Built between 1956 and 1958, it was a reconstruction of the lot overlooking the 17th-century square named after the Spanish governor Juan de Velasco following the bombardments of the Second World War.
Designing and coordinating the work was a group of architects who were prominent in the Milanese and European scenes, the prestigious Studio BBPR: Banfi, Belgioioso, Peressutti, and Rogers created an innovative structure, modern yet reminiscent of the traditional buildings of the historic city center and the Milanese setting in which it rises.
Structure
A reinforced concrete structure that reaches 106 meters above street level, with a unique shape distinguished by the protruding upper floors, jutting out over the lower trunk – just like medieval towers – a structure that allowed for expansion of floorspace above when the buildings were too dense below. The oblique beams support the expansion of the upper floors and add unique character to the skyscraper, providing evidence of technological and esthetic values.
The "pillars" along the facades have a functional and esthetic role, adding order and symmetry to the building.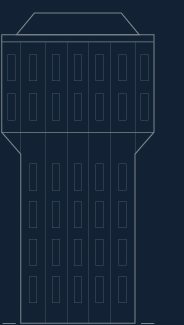 Torre Velasca is experiencing an exceptional moment of revival – as the Unipol Group had hoped – once again elevating it to a leading role within a constantly evolving social and urban fabric.
The appeal of the Tower, its futuristic and traditional essence, make this structure an element that has all the credentials to be one of the city's most important landmarks, both for its inhabitants and for those who want to explore all the city has to offer.
The renovation plan includes the division of the skyscraper into areas dedicated to different functions.
The Location
A tower, its piazza, and a setting of luxury buildings